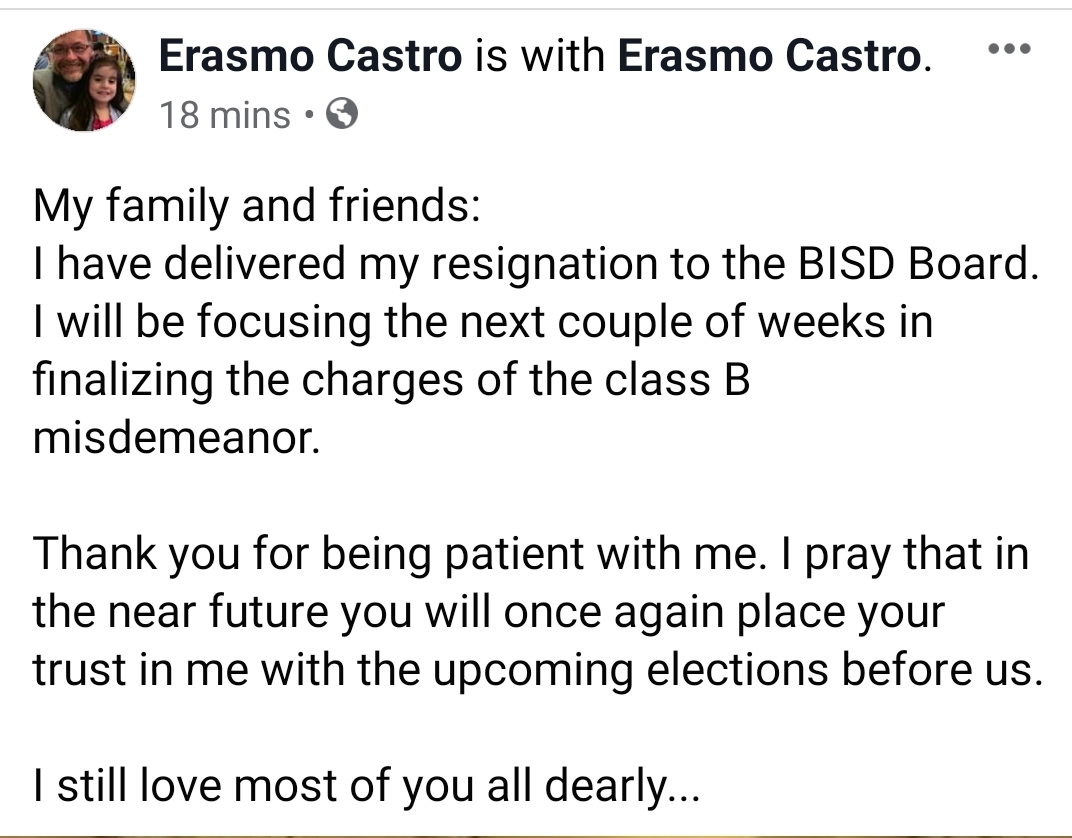 It looks like the end for Erasmo Castro in his time with BISD. It was just a matter of time before the pressure of his DWI charges were going to get to him and after having people lie for him and them possibly facing perjury charges, it was better for him to "quit" than sending his friends to jail.
Shout out to Zachary Blevins for placing the lawsuit that set forth a series of events that eventually forced him to resign, it was either that or have the judge forcefully remove him by law, like that of Michael Vargas, he chose the better option.
Resignation letter Erasmo Castro sent BISD.
‪January 10, 2020‬
‪Sent Via Hand Delivery‬
‪BISD Board of Trustees‬
‪1900 E Price Rd‬
‪Brownsville, Texas 78521‬
‪In re: Resignation‬
‪Dear Board Secretary, Superintendent and BISD Trustees:‬
‪Please be advised that I Erasmo Castro hereby resign as Brownsville Independent School Board Trustee effective immediately. ‬
‪I am grateful to my community for entrusting me with your vote of confidence. I am opting to deal with personal situation which has unfortunately become a distraction to the amazing things happening at BISD. ‬
‪I have had to take a step back from serving my spiritual family because of my well publicized personal situation. It is my hope to restore the balance that is everything for me. ‬
‪I am proud of all I have accomplished during my time on the Board. Helped expand our PreK 3 program, worked to improve our cafeteria menus, took measures to ensure the stability of our districts competitive future, was able to offer salary increase to our amazing staff, promoted the amazing programs offered at the district, became our talented (students and personnel) district's cheerleader, became a voice for those who because of retaliation labored in fear, exposed corruption and brought awareness as to the wheeling and dealings of self serving Board Members; true transparency.‬
‪I will continue to serve my community as a public citizen until the day, hopefully in the near future, that I ask for your support. ‬
‪I have been, am now and will continue to be your humble servant.‬
‪Most Sincerely, ‬
‪Erasmo Castro, BISD Trustee‬